Call: 847-674-2070


Truck Trailer Weather Seals

Advanced Plastic Truck, Trailer Weather Seals
Designed To Fit All Standard Sizes.
When It Comes To Truck Seals We Have All 53 Feet Sealed Up!
Truck, Trailer Weather Seals, & Gaskets
As the leading manufacturer of extruded profiles for trucks and trailers, Advanced Plastic has sealed up the transportation industry. Our transportation products have been used extensively by the largest and most prestigious U.S. truck and trailer manufacturers since we entered this market over 30 years ago.
Our story begins in the 80s when Met-L-Wood challenged us to transform a standard swing door trailer gasket. This challenge led to the creation of the dual durometer PVC seal, which is still widely used in the industry.
Advanced Plastic has built on this success, leveraging in-house tooling and strong customer relationships to develop innovative products and value-added solutions to the truck trailer industry.
Some of our dry freight and refrigerated truck trailer weather seal products include:
Weather Seals

Door Gaskets and Frames

Covers / Liners

Dividers

Foam Dams

Floor Insulators

Floor Seals

Conduits

Headers / Sills / Jambs

Tubing

Wire Tracks

Cove Molding

Various Trim Profiles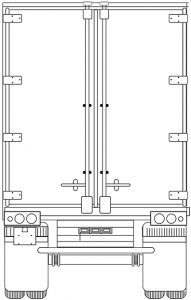 The Advanced Plastic Difference:


Innovative Solutions, Materials Selections, and Services
Tailored to the Truck Trailer Industry
Materials
With decades of experience catering to the transportation industry, we've worked with virtually every material used in the manufacturing of weather seals, gaskets, liners, conduits, moldings, insulators, and jambs. This expertise translates into the selection of the most appropriate material for the task at hand. Whether an application requires thermal insulation, sound dampening, rigidity, flexibility, or extreme durability (or a blend of various characteristics), our engineers know exactly which materials to use.
Below are some of materials we use in the production of the highest quality truck and trailer weather seals:
ABS

Rigid PVC

Flexible PVC

Low Coefficient of Friction Flexible PVC

HDPE

LDPE

TPE

TPV

HIPS
Value-Added Services
Our custom tooling expertise enables us produce durable plastic extruded profiles unique to each manufacturer's project requirements. We work closely with design engineers, accepting their technological challenges and delivering innovative truck trailer seals that meet all form and function specifications.
We welcome the opportunity to work with engineers to turn design complications and new concepts into custom plastic profile solutions.
Our in-house team handles everything including:
Drilling / counter-sinking

Die cutting

In-line tape

Notching

Custom tooling (in house)

3D modeling / 3D printing

Melt flow indexer

Impact testing

Density
Advanced Plastic is a premier manufacturer of dry freight and refrigerated truck trailer weather seals and
gaskets with a diverse group of products spanning the entire length and width of the trailer.

If you need help sealing up your trailer we are happy to be of assistance. Contact us at 847-674-2070.
Transportation Industry